What, you may be asking yourself, is a grizzly bar?
Well, if you're Davy Crockett, it's just a big old animal that lives in the woods and had an unfortunate run-in with you when you were only three.  *Rim shot* Sorry for the bad jokes, everybody, but I'm writing this late and I'm tired.  Also, bad jokes aren't that unusual around here, so if you're new, I apologize in advance.
But THESE grizzly bars are just sort of my whimsical name for a great, incredibly easy gluten-free treat that has only a handful of ingredients but manages to be dense and decadent and delicious all the way around.  I don't know exactly why I thought of bears when I made these.  Something about the combination of peanut butter, honey, and oats conjured them for me, and there they were.  So rather than a boring old descriptive name like "Peanut Butter Yummy Bars" or "Gluten-Free Peanut Butter Honey Cake" or something like that, I christened them "Grizzly Bars."  And henceforth, grizzly bars they shall be.
The greatest thing about these bars, especially at holiday time, is that we all inevitably end up with that one occasion where we really need to bring something to an event at the last minute, and we have only five decent ingredients, a can of sardines, and less than an hour to pull something off.  Now of course you COULD go buy something, but that's not how I roll.  And with these bars, it's not how you'll be rolling, either.  These are made with basic pantry staples and take just a couple of minutes to mix up.  Then while they're baking, you can get yourself all party-ready, and soon you'll be walking out the door with a warm, sweet treat your friends will love, possibly even more than they love you.  Or maybe they'll love you more because you brought the bars.  Either way, you'll be a last-minute potluck rock star.
They're not a cookie bar.  They're not entirely a cake.  They're an ooey, gooey something of their very own, and it's pretty special.  The cinnamon honey butter that melts into the top at the last minute is what really makes these Grizzly Bars a festive treat, I think.  It takes them from "good but a bit dull" to sweet and rich and ultra-moist.  One word of caution, though: You won't have to worry about fending off these grizzlies, but you may have to restrain yourself from eating one for breakfast.  Not that I, uh, know anything about that firsthand.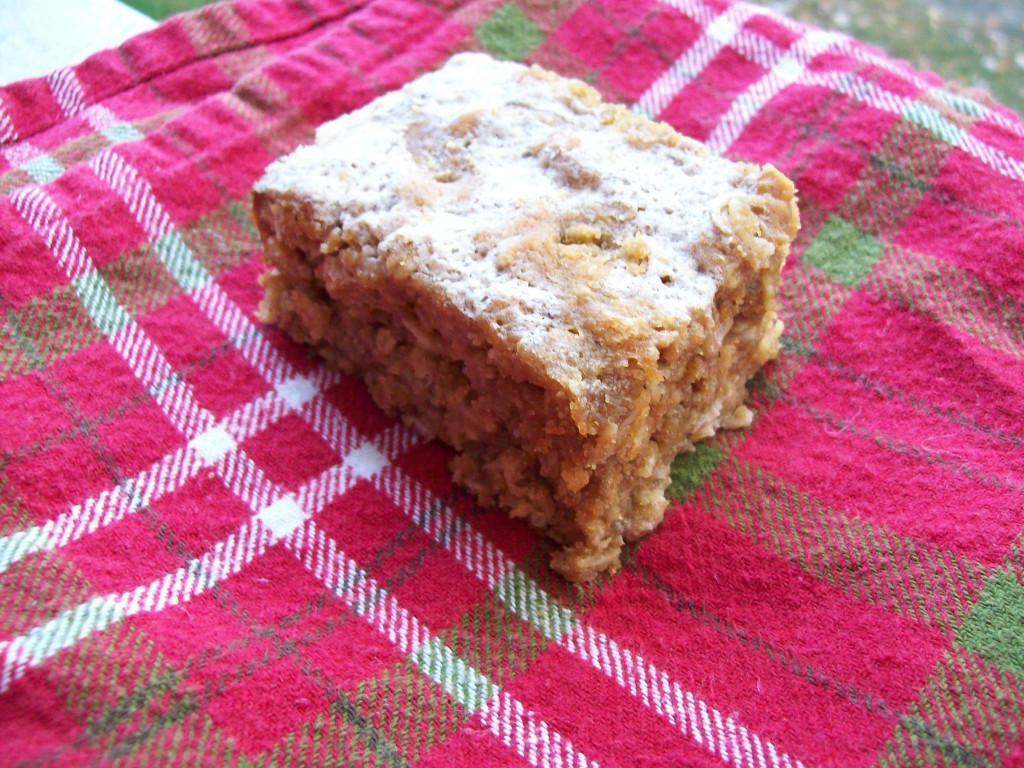 If you're just catching up, this post is part of the "Twelve Weeks of Christmas Treats" Blog Hop, hosted by Brenda Thompson of Meal Planning Magic.  In Week One, I posted the recipe for Double-Chocolate Gingerbread Whoopie Pies.  In Week Two, I posted Chai-Spiced Oatmeal Cookies.  Week Three's contribution was Lemon Meringue Cookies; and last week, in Week Four, I shared the recipe for Salted Caramel Krispie Bark.