Three important things have been going on this week that I must share with you:
1) One of my posts was featured on HandPicked Nation!  I'll spare you the squealing, but seriously, I felt pretty darned cool seeing the Five Stages of Foodie Grief on somebody else's internet real estate.  More RRG on HPN to come…and hopefully, not so many acronyms.
2) I'm gearing up for another dinner party like the one J. and I hosted last fall, where a bunch of our friends come over, eat a ton of food, and throw a small monetary donation into the pot for a charitable cause.  This time, we're raising money for the Jamie Oliver Food Foundation.  I just finished making my first-ever gluten-free pizza dough, I've got a ridiculous number of whole chickens brining away, there's homemade merguez marinating in the fridge, and the savory lemon-olive oil muffins just came out of the oven.  My fabulous friend B.W. shows up in the morning to help me with all the rest.  Photos and recipes next week!
3) Speaking of the Jamie Oliver Food Foundation…if you've been around here for a while, you know that I'm working with the Real Food Advocates team to raise money for J.O.  You also know that, back when things got slightly tense between some of the food blogging community and a certain segment of the general public over Slimegate, I recommended to angry readers that they cease calling me a foodie elitist and simply refer to me as a Nosy Meddling Crunchy Hippie Intellectual.  Some people thought that was amusing; some people even said I ought to put that on a T-shirt.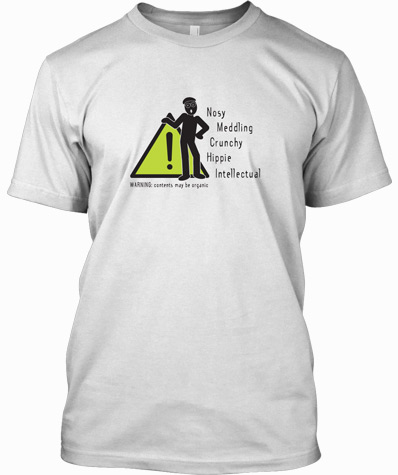 For TWO WEEKS ONLY, this limited edition T-shirt, designed by my awesome friend Jenn, is being sold to benefit the Jamie Oliver Food Foundation.  Our goal is to sell 75 shirts in two weeks; if we don't reach the goal, the shirts won't be printed and everyone will be very, very sad.  (I may be making that up.  But I will certainly be rather put out.)  So here's your chance, folks.  Officially join the ranks of the Nosy Meddling Crunchy Hippie Intellectuals!  Reserve your shirt at Teespring, support a good cause, and most importantly…make me happy.