"No bread?" my father inquired, half-facetiously.  "No milk?  No Velveeta?  But these things are the staffs of life!"
Dad's theories about the various foodstuffs that may, at any given time, be considered "a staff of life" are a running family joke.  The list usually contains, in no particular order: Velveeta.  Peanut butter.  Raw hamburger sandwiches.  Saltines.  Pretzels with onion dip.  Bread (but none of that weenie whole-wheat crap).  Milk.  And so forth.  It's partly funny because, although certainly my father enjoys all of those items, he by no means really believes that they're the cornerstones of a decent diet; and it's also funny because, being married to my epicurean mother, he's been served his fair share of pesto sauces, goat cheeses, and other various "exotic" items…and has lived to tell the tale.  (He may even have enjoyed some of those things — but don't tell him I said so.)
This weekend was Dad's birthday, and he and my mother came to visit us for a family celebration.  My sister, D., surprised Dad by coming up from New York on the train.  There were festivities, merriment, and of course, plenty of food.  But since we're now entering Week Three of a six-week gluten-and-casein-free trial with L., cooking and eating as a crowd was definitely a bit more…interesting?…than we'd planned.
Mom and Dad were, naturally, very supportive of our decision to try this dietary intervention for our little guy.  But I think it's fair to say that it caused every one of us at least a momentary pang, at some point over the weekend, as we tried to work around the delicate dietary prescription for L. without either a) compromising some of the things we wanted to enjoy as a family; or b) denying a five-year-old a large number of items that were available to the rest of us.  I've been okay with the new diet, largely, because it's been relatively easy (if not totally painless) for me to simply adjust what the four of us have eaten at home in order to accommodate L.  Over the weekend, however, with a birthday party to execute and houseguests afoot, it hit home for me just how much "tweaking" was necessary to make everything go smoothly, food-wise.
The lobster was no problem, but the drawn butter would have to be carefully clarified if we wanted L. to have a taste.  The grass-fed steak was no problem, but fettucine was off the menu altogether, and the brioche dinner rolls were sort of eaten on the sly (not that L. was unaware of them — he was grumpily resigned to his bread-free fate prior to dinner).  Asparagus and salad were welcome points of relief.  But bread pudding…bread pudding, Dad's requested birthday dessert, was going to have to be off-limits to our newly GF/CF guy.  And as for Mom's desire to take us out for lunch the following day, well, we satisfied ourselves with Japanese take-out instead so L. could enjoy some sushi and vegetables (no soy sauce) under our watchful eyes at home.
It's not all dire, by any means.  We've done pretty well, and now that we're a third of the way through this challenge, I'm starting to catch on and figure out a rhythm that works.  I'm even starting to experiment, a little.  In some ways, we've expanded our palates a bit (quinoa was a new food to everyone in the family but me, and it turns out to be a raving success); in others, we've had to narrow our scope a little in order to quickly and confidently adjust to the list of "approved" foods without driving us (or, okay, ME) stark raving mad.  GF/CF is a steep learning curve, to be sure, but it's not impossible.
By way of sharing, and keeping myself motivated for the next leg of this journey, here are some of the things we've eaten and the adjustments I've made to the meal plan as our family has made the leap into the GF/CF lifestyle:
Monday, 4/9: Turkey tacos, guacamole, confetti corn
This was an easy meal to start with, especially on short (2 hours!) notice.  We served hard-shell tacos only, which isn't typical for us, and added fruit to the table.  L. doesn't eat cheese on his tacos anyway, so he didn't mind the lack of dairy.
Tuesday, 4/10: Slow cooker — French dip sandwiches, sweet potato fries, fruit
First hurdle.  We omitted the "sandwich" and ate the roast and onions on their own.
Wednesday, 4/11: Tomato soup, whole-wheat biscuits, veggie platter
Since I know you can make a serviceable quick biscuit from pancake mix, I used GF/CF pancake mix to make GF/CF biscuits.
Thursday, 4/12: Sesame noodles with broccoli, oranges
We canned this whole idea.  I wasn't brave enough for noodles yet.  But I'd picked up some boneless turkey breast on sale over the weekend, so I cubed it and cooked it in a skillet with homemade stock and honey mustard.  We ate it with roasted broccoli, fruit, and salad.
Friday, 4/13: Fend night
Without wheat or dairy, fending was just too hard.  Luckily, I had chicken breasts in the freezer (always keep a backup on hand!), so I grilled them up, roasted a butternut squash that needed to be cooked, and reinvented some leftover wild rice with garlic, herbs, and chopped cashews.
Saturday, 4/14: Falafel and pitas
I was determined to figure out a pita substitute for this meal.  GF/CF pitas were a pain to make, but they turned out…not half bad.  L. loved them.  I used them later the next week to make a cheeseless "pizza" for his lunch.  As for the tabbouleh salad I always enjoy with falafel, quinoa stood in for the bulgur wheat without much discernible difference.
Sunday, 4/15: Herb-marinated pork (whatever cut is most affordable), crispy roasted potatoes, vegetables
OH THANK GOD I DON'T HAVE TO MESS WITH THIS MEAL TO MAKE IT GF/CF.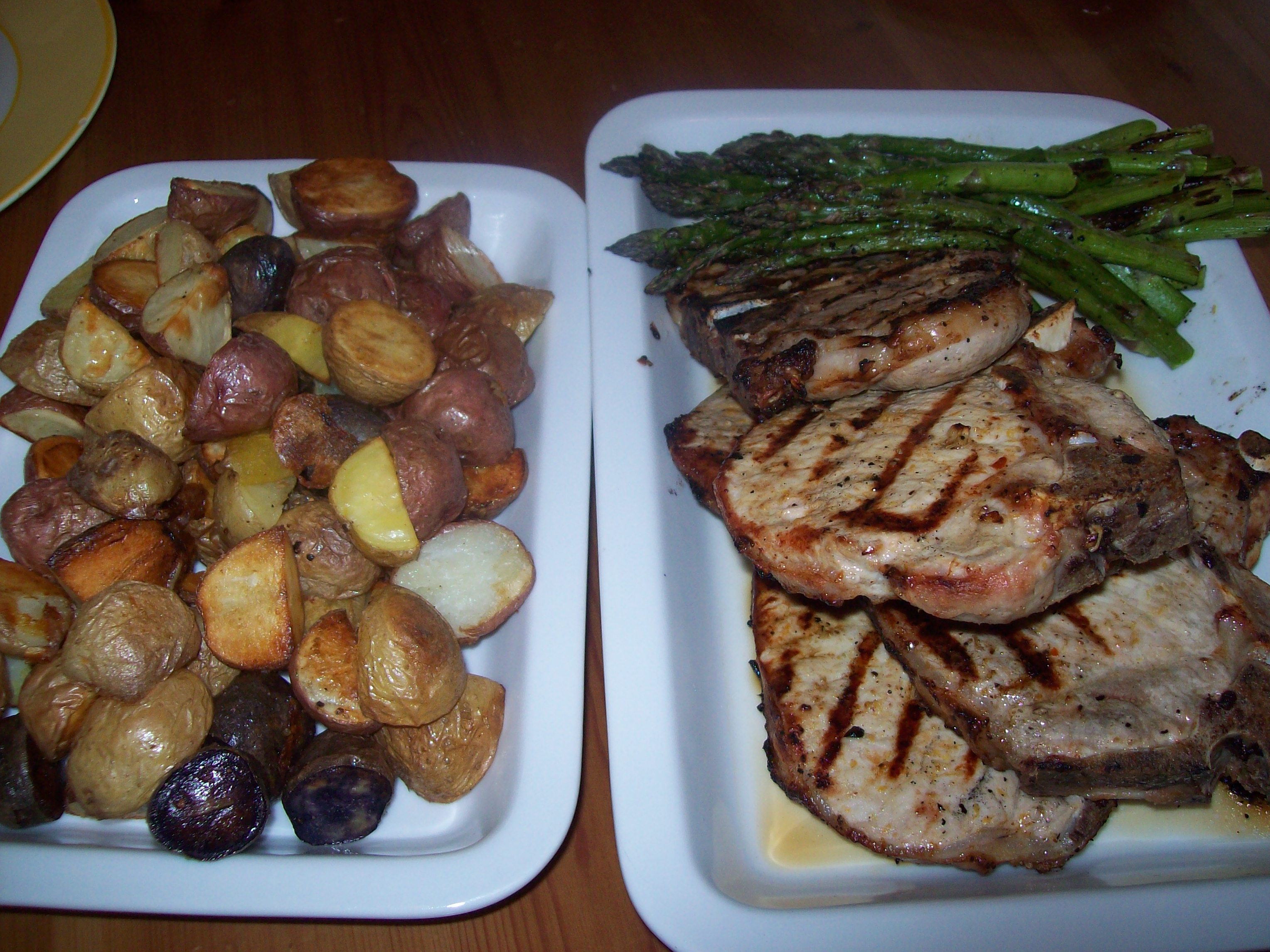 Monday, 4/16: Whole wheat pasta with sweet potatoes and bell peppers, salad
Jovial brown rice pasta turned out to be a perfectly good substitution.  Huh.  Life started to feel a little easier right around now.
Tuesday, 4/17: Slow cooker — ropas viejas, homemade tortillas, rice and beans
Well, our beloved whole-wheat tortillas were not going to happen.  Clearly.  I tried to make corn ones instead.  They were successful, but guess what?  None of us really like corn tortillas.  Now I have a big bag of masa to use up somehow.  You win some….
Wednesday, 4/18: No-fuss chicken, vegetables
It gave me pause to realize that this is one of L.'s all-time favorite meals, and I couldn't execute it on a GF/CF plan.  Not to be entirely defeated, I crushed up a bunch of organic tortilla chips and used those to crust chicken thighs.  The boys were delighted.
Thursday, 4/19: Fend night
Again…it's just harder to fend right now.  I haven't figured out the easy way to deal with this yet.  So I rooted through the fridge and found a few organic chicken sausages, eggs, a random amount of asparagus, a few waxy potatoes…and we had grilled sausages and veggies with fried eggs and olive oil hash browns.  Surprisingly good.
Friday, 4/20: Family coming into town; I'll let the kids pick the menu.
The rest of that random turkey breast purchase came in handy.  We roasted it and served it simply, with quinoa and broccoli.
Saturday, 4/21: Cooking dinner for my Dad's birthday.  His choice: Lobsters, grass-fed steaks, fettucine, asparagus.
Scratched the fettucine and substituted a salad.  As to dessert, the adults enjoyed bread pudding after the kids were in bed; but L. and I had fun baking GF/CF angel food cupcakes for the kids.  We iced them with dairy-free chocolate almond butter.  I'd do it again, diet or no diet.  They were kind of awesome.
Sunday, 4/22: After all that food the night before, I'm not planning anything!
We "fended," for real this time.  The kids had a mishmosh of assorted leftovers.  The adults had omelets.
Monday, 4/23: Dinner crepes and fruit
By tonight, I was actually confident in my ability to go rogue and try my hand at GF/CF crepes without a recipe.  And it turns out I was right to trust myself — the crepes were amazingly good.  We stuffed them with a variety of leftover meats, cheeses (not for L., obviously) and vegetables.  L., with his cheeks full, said "I want these for lunch tomorrow, okay?"  I consider it a win…and it felt good to know I could unreservedly say yes.
Gluten and Casein Free Crepes
4 large eggs
1/2 cup cold water
1/2 cup non-dairy milk (we used coconut milk so L. could take them to school)
pinch salt
1 cup gluten-free all-purpose flour (I used King Arthur brand)
3 tablespoons ghee or clarified butter, plus more for greasing the pan
Combine the eggs, water, milk, salt, and flour in a blender.  Blend on high for about a minute and a half to make the batter smooth and light.  With the machine running, stream in the ghee.  Let the blender run for an additional 30 seconds, until everything is well incorporated.
Heat a non-stick skillet over medium heat.  Brush the skillet with a little ghee, then pour in 1/4 cup of the crepe batter.  Swirl the pan around to coat it evenly with batter.  Let the crepe cook for about 1 minute, until the edges begin to look dry and the crepe is set.  Carefully flip it over and cook for an additional 30 seconds to 1 minute on the other side.  Slide onto a plate and repeat with the remaining ghee and batter.  I got about a dozen crepes from this recipe.